Smart Tech Korea 2022, an annual technology meeting happening in Gangnam, Coex complex, and featuring some of the most advanced and innovating projects in Asia.
I'm very glad to have had the opportunity of taking part of such big and interesting event, where I found many new technologies, amazing autonomous robots that will help to improve people lives and a full set of different applications of AI to the world.
From crazy big and difficult tasks as monitoring security on power plants through the existing camera setups by smart detecting different events such as smoke, to personal accident prevention during daily tasks.
The event ran on 8th, 9th and 10th of July in one of the most trendy areas in Seoul, capital of the Republic of South Korea, and just 5 minutes walk under the ground from the Starfield library, a very nice designed space that shares the space of the convention.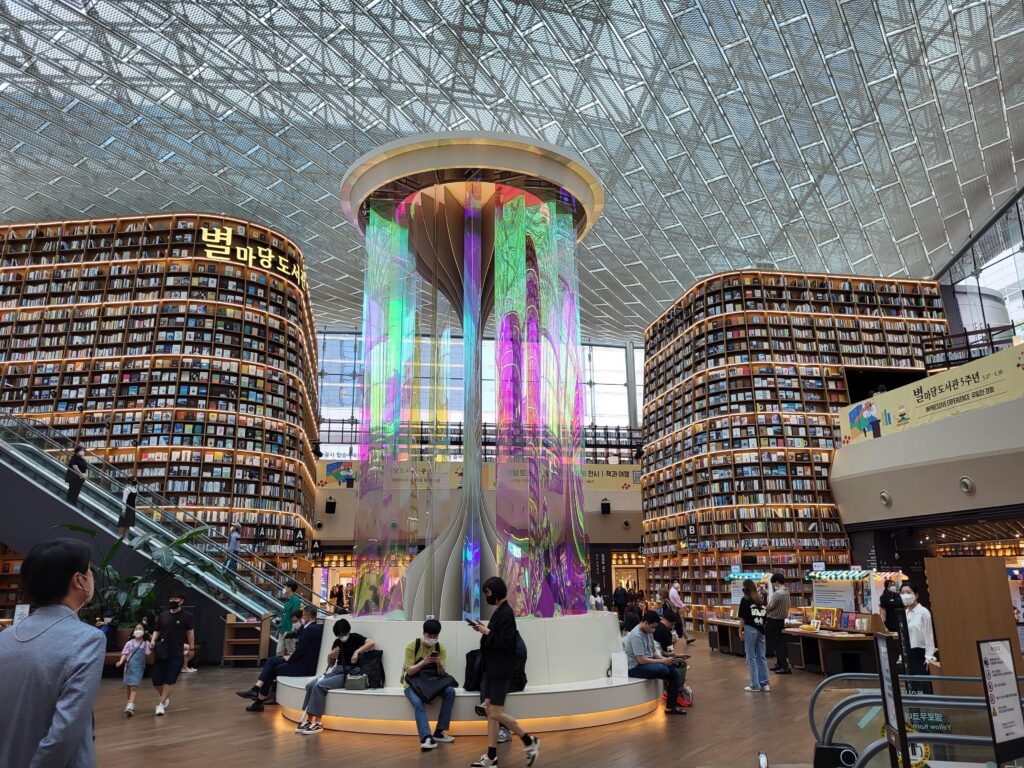 I can only say that everything was very well designed, from access control to inner distribution of the expositions, making use of cutting edge technologies to gather statistics and guaranty accessibility.
Remote conference robots
In fact, I was specially shocked by the remote conference robots. This were "small" robotic friends that let attenders to visit and interact with the exhibition directly from the event website, "face to face" trough a live connection on those robots.
Definitely a funny and interesting concept to introduce to this events.
Technology and AI was also part of the Smart Tech Korea organization itself
You can see the "avatar tour" (conference robots) in action here: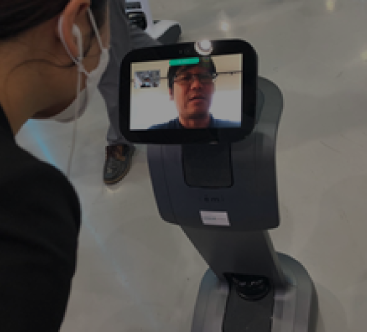 Although I had to cut the part when the user starts It's conference for privacy reasons from the video, the image above shows how It works (image from their official website)
Getting into the content of the exhibitions, one of my favorites stands was the one of Deeping Source, a company offering an anonimized and secure individual tracking through a space, powered by their AI algorithm.
Deeping Source software pixelates individuals from the camera view but is still capable of tracking that person during the time It is in camera sight.
By the anonimization process they get rid of privacy concerns regarding personal image usage/storage, while still able to gather useful data for retail, logistics and many other industries.
Some realtime footage recorded during the exhibition
Another very interesting technology was CAE Software and Systems Camera
A camera that allows you to SEE the SOUND
In fact, their sound camera literally lets you see, in a "thermal fashioned" way where the noises come from and their intensity/frequency
I also got a live footage during my journey on the Smart Tech Korea event
At the end of the article I will attach some random footages and pictures I found interesting on the event.
Some other spicy stands that got my attention
I can't miss talking about some other well known companies in the industry, which also had their own stand and that gave me some nice merchandising:
Amazon Web Services (AWS)
Oracle
Coupang
KT telecom
And an amazing group of students from the Daedeok Software Meister High School, whose developed a production ready (and currently under exploitation phase) app for managing their student dorm facilities.
The club also developed a hardware device to play light and sound of different music instruments when people goes up/down their school stairs.
Final conclusions
It was a funny and well organized event, with some meetings and a huge showcase of technology, but at the same time It felt that most of the developments right now put the focus on exploiting the AI capabilities and the blockchain, which leads to great innovation for the use cases of those technologies, but at the same time reduces the market window for other technologies (hardwares and softwares) to be acknowledged by the public.
Some random footage I recorded during the event